Lexus AWD IS 350 For Sale By Owner
Consider this limited opportunity to step into a low mileage, clean 2011 Lexus.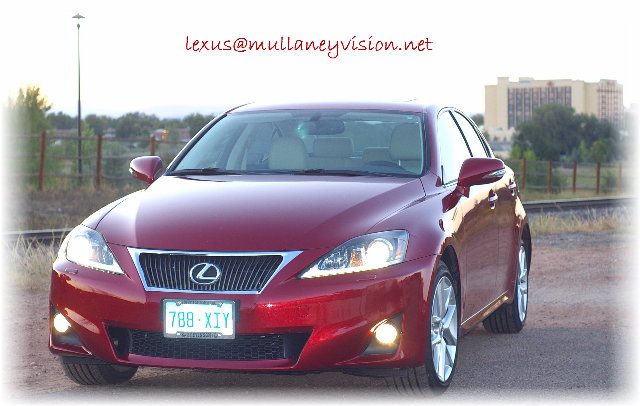 | | |
| --- | --- |
| A new set of family opportunities is leading us to sell our new car, now gently experienced with just over 12,000 miles. The 2011 Lexus IS 350 all-wheel-drive sedan offers a powerful 306 horsepower 3.5 liter V6 DOHC engine. | |
The satellite XM radio and emergency locator devices use the sleek antenna mounted on top of the car.
The optional paint and interior packages were selected at the time of purchase, so the vehicle comes with extra physical protection for strategic painted areas: front of hood, rearview mirrors and handles. This option minimizes the risk of damage from bugs, pebbles and repeated contact with fingers.
The driver and front passenger enjoy the option to cool or heat the leather seats. All the comforts and controls I might want are within reach. The sound system includes Satellite radio (service available through XM Radio), AM/FM, Bluetooth/USB connections, and a 6-disc CD changer. The stereo yields to the integrated cell phone of the primary driver.
Garage door remote controls are built into the rear view mirror. Store your sunglasses in the ceiling. Adjust the seats and steering wheel to fit you. Allow unified or left-right controls for interior comfort. Select the data you want to see by default on the dashboard.
If you prefer to control the shifting sequence, you can use the semi-manual control stick (no clutch with this 6-speed ECT-i automatic transmission) or the toggle controls (paddles) mounted on the leather-trimmed steering wheel.
One, two or three passengers in the back also enjoy leather seats and a comfortable, safe ride with plenty of visibility out the windows.
The trunk offers plenty of room and even allows for skis or other long objects to extend through a portico in the rear seat. A cargo net, anchors and straps allow additional control.
The spare tire and the first aid kit are tucked away in case of emergency.
The very minor scuff is nearly imperceptible; see if you can spot it on the top of the hubcap (in the close-up).
Turn your commute into a bright spot of your day.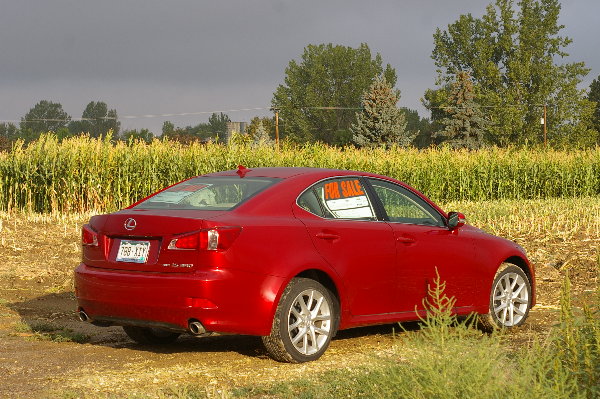 | | |
| --- | --- |
| | Refer your friends/family to this site (http://mullaneyvision.net/lexus); more details are available here. The price for this unique red beauty with the light interior corresponds to the balance of the car loan (below $42K, and dropping as of September 2012); know that you are helping a family heading into the university. 100K mile extended warranty negotiable. Contact David at 970-396-5111 (Fort Collins, Colorado) or by email at lexus@mullaneyvision.net to work out next steps/logistics. |