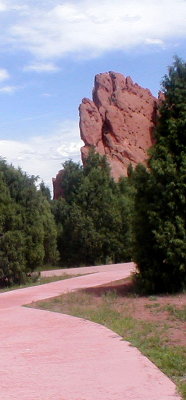 Castellano se refiere al español puro. También la palabra tiene la ventaja de no llevar acento ni tilde. La página presente tiene el objetivo de ofrecer al público algunas sugeriencias para considerar en el uso del idioma español en correo electrónico o en las páginas del Internet. [escucha]
Enlaces sugeridos:
La siguiente lista muestra tres formas de representar letras necesarias en castellano pero no muy común en inglés. Dependiendo en las características del sistema, las tres letras pueden aparecer idénticas o variadas en cada fila. La primera fue copiada desde un programa de Microsoft. La segunda es una clave de HTML para la identidad en la tabla ASCII. La tercera es la más fácil de usar con confianza; es un código de HTML con nombre descriptivo.
"Castellano" refers to pure Spanish. Also the word "castellano" has the advantage of avoiding both accent marks and tildes. The objective of this page is to offer the public some suggestions to consider when using the Spanish language in email or on web pages. [listen]
Suggested links:
The following list shows three ways to represent letters necessary for Spanish (but uncommon in English). Depending on system characteristics, each of the three letters per row can appear identical or varied. The first letter was copied from a Microsoft program. The second letter is an HTML code for an identity within an ASCII table. The third is the easiest to use confidently; it is an HTML code with a descriptive name.

     Á Á Á
     á á á
     É É É
     é é é
     Í Í Í
     í í í
     Ñ Ñ Ñ
     ñ ñ ñ
     Ó Ó Ó
     ó ó ó
     Ö Ö Ö
     ö ö ö
     Ú Ú Ú
     ú ú ú
     Ü Ü Ü
     ü ü ü
     ¿ ¿ ¿
     ¡ ¡ ¡


Se puede archivar esta página y abrirla con cualquier editor de texto (como Notepad) para examinar las diferentes maneras de representar estos signos de puntuación y letras.
¿Quieres un ejemplo de otra alternativa aún más fácil? ¡Claro que sí! Así escribo en español con mis parientes y amigos; compara este párrafo con lo de abajo...
??Quieres un ejemplo de otra alternativa aUn mAs fAcil? !!Claro que sI! AsI escribo en espaNol con mis parientes y amigos...
Si no es una obra formal, utilizo letras en mayúscula para letras con acento o tilde, y pongo dos signos de puntuación donde se necesita una "patas arriba".
You can save this page and open it with any text editor (like Notepad) in order to examine the different ways of representing these punctuation marks and letters.
Would you like an example of another easier way? Of course you would! This is how I write in Spanish with relatives and friends; compare the [formatted Spanish] paragraph to the one below...
??Quieres un ejemplo de otra alternativa aUn mAs fAcil? !!Claro que sI! AsI escribo en espaNol con mis parientes y amigos...
If it is not a formal paper, capitalize letters that need an accent or tilde, and put two punctutation marks where one "upside down" punctuation mark is needed.