Considering UNIR
Thoughts on Establishing an Accountability Pair
by David Mullaney
Last updated: January 21, 2003
Summary:
Two people can be of mutual encouragement. "Considering UNIR: Thoughts on Establishing an Accountability Pair" affirms the value and presents an approach to such a model of united encouragement. UNIR (when pronounced letter by letter) is You And I Are..., a process of getting to know each other and oneself more thoroughly.
A person tends to reach goals more consistently if someone else shows an interest. As the 21st century unfolds, examine the way you approach responsibilities; a common observation will be that each person tends to hold on to his or her individualism but must deal with external pressures and internal distractions. A safe, committed and defined friendship provides a place where goals can be discovered, named and achieved. Perhaps you can find someone to be the other half of your Accountability Pair.
Hint: The homepage for UNIR Accountability Pairs is http://mullaneyvision.net/unir/ .
Hint: An abridged version of this article is available here .
---
Introduction
Two people can be of mutual encouragement. This article affirms the value and presents an approach to such a model of united encouragement. UNIR (when pronounced letter by letter) is You And I Are..., a process of getting to know each other and oneself more thoroughly.
A person tends to reach goals more consistently if someone else shows an interest. As the 21st century unfolds, examine the way you approach responsibilities; a common observation will be that each person tends to hold on to his or her individualism but must deal with external pressures and internal distractions. A safe, committed and defined friendship provides a place where goals can be discovered, named and achieved. Perhaps you can find someone to be the other half of your Accountability Pair.
For the purposes of this paper (and UNIR Accountability Pairs), the definition of accountability pair consists of two parts:
accountability: (noun) the characteristic of having, appreciating, expecting and responding to another person or organization that knows of particular goals or standards and a plan to apply those goals or standards to reality within a defined timeframe; (gerund) the application of aforementioned characteristics into a person's life, environment or affiliation.



pair: (noun) a group with two members, not an individual, not a group that contains more than two members; the plural form (pairs) refers to more than one instance of aforementioned group existing in parallel; plural form may suggest a movement or organization of such pairs in parallel.
As a combined concept, accountability and pair suggest that two people are committed to a relationship with each other that enhances the effectiveness of their individual attempts to apply goals or standards to their reality. Accountability Pairs should include exactly two people in the smallest element of that group; more details are developed below about recommendations for partner selection and strategies for implementation. The following links provide a means to re-visit any section of particular interest:

Allow me to share one more thought about the name UNIR before moving into motivation, approach and encouragement. Unir is the Spanish verb "to unite" (or "uniting"). This is appropriate, because one gets to know himself or herself better through these meetings, and the two people become united! So feel free to spell UNIR in English or simply pronounce it in Spanish, or switch back and forth. Both ways work.
Motivation
The author has found even more spiritual motivation to pursue Accountability Pairs than secular encouragement in that pursuit. The intended audience includes members of all religious groups and those who claim no religious orientation whatsoever. The unabridged version of this article includes input from notably Judeo-Christian resources; those references and any material that can be removed responsibly from the article do not appear in the abridged version (linked at the top of this article).
Mike Farrell's life is one worthy to explore. After achieving incredible success as an actor (best known for work as Captain B.J. Hunnicut in the television series "M*A*S*H"), he has gone on to pursue a vision of a better world (something many of us have only dreamed about). According to a description of Farrell's life published by NBC, his acting career was launched when a buddy encouraged him to pursue that part of his life for which he yearned. The article does not go on to describe many more details of this relationship, but the characteristics of encouragement, challenge and trust were evidently motivating factors.
The Girl Scouts (GSUSA) offer a model of emulation. Their program goals are to:
Develop their full individual potential
Relate to others with increasing understanding, skill, and respect
Develop values to guide their actions and provide the foundation for sound decision making
Contribute to the improvement of society through their abilities, leadership skills, and cooperation with others
They also have an article about the importance for people to "Inspire, Empower and Advise". This is an organization with over 3,000,000 members and more than five decades of experience. Goals of such an organization and reputation must not be overlooked!

January 2003 has been proclaimed by the President of the United States of America to be National Mentoring Month. The declaration includes these words (from President Bush):

Many Americans can point to individuals who influenced their lives and helped to shape them into who they are today. Whether they were teachers, coaches, relatives, clergy, or other community leaders, these positive role models have been critical to our healthy development and helped to instill purpose in our lives. As we honor these everyday heroes, we also recognize that there is a great need for more mentors in America. Too many children in our Nation are growing up without enough support and guidance in their lives, and we must work to ensure that no child is left behind.
The Big Brothers Big Sisters of America (BBBS) has been serving community interests for nearly a century. Their success is built upon adults and children sharing everyday activities, expanding horizons and experiencing the joy in even the simplest events. BBBS also emphasizes the need to have trust amongst its members. Both scouting and BBBS are leaders in the world of mentoring; moreover, they provide insight into qualities that make for unique friendships (and UNIR Accountability Pairs).

One contributor to confidence in your accountability partner is the freedom to share concerns that you might not share with other people close to you (such as a spouse, parent or co-worker). This article does not attempt to define what type of confidence is appropriate in those relationships, but the observation is here that many people are hesitant to bring up difficult topics with people who might be hurt, worried or confused by the topic. Sometimes repercussions or expectations of a negative reaction from a loved one could impede effective communication. Both halves of the Accountability Pair should recognize the unique value they have to the other member by providing safety in conversation.
Approach
A crucial step in forming an Accountability Pair is finding the right person. Many people claim a desire to have a confidant, a friend with whom to entrust the hopes, cares and anxieties of life. Unfortunately, the desire never crosses the threshold of regret. This limitation may be due largely to a need to adjust priorities and organization.
Both members of an Accountability Pair should embrace a significant, common element in their lives. Ideally, that would be in the realm of faith or world-view, but it could also be argued that a passion for golf, table tennis or hiking could be enough cause to bring these two together. Similarly, a crisis or common struggle (such as persecution or fear of public speaking) may be grounds for UNIR. Whatever the commonality is, the two members should recognize it and incorporate that (in whatever way makes sense) into the structure of their experience. One of the first areas of negotiation is commitment; both candidates should explain the range of possible commitment. Maybe it is for a few months; maybe the UNIR experience will never end. Once both have expressed the intent and willingness to consider different levels of commitment, a specific minimal commitment should be agreed upon (such as until both friends start a new job).
The other essential ingredient for a good start is to have structure supporting the accountability. Depending on the life situations of the pair, the location(s) of their meetings and the level of commitment, a schedule should be established that includes frequency and duration for the meetings. A default location should be found, so that venue is never an obstacle to meeting. A process should be defined that keeps the pair accountable to each other, encourages growth and makes the commitment an effective choice.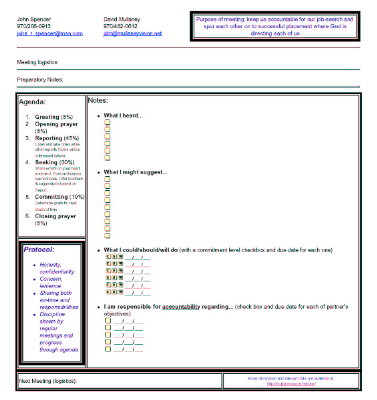 The UNIR website provides a forum for thoughts, tools and services in support of the UNIR process. The UNIR form is a tool that helps to keep the entire UNIR experience on track by highlighting the elements to keep in mind.
The agenda for a UNIR Accountability Pair is one of the first places that shows evidence of the commitment and organizational structure of that duo. A default agenda is included in the form, but each two-some may wish to adjust the distribution of time or the emphases of content to reflect the character and goals of their UNIR reality. Similarly, the agenda can be adjusted to include special events or an added focus to one particular meeting.
Note that each item in the agenda has a percentage of time associated with it. Meetings take place in reality, and reality often influences how much time is available and what time the meeting actually starts. By listing the distribution in percentage increments (hopefully adding up to 100%), each aspect of the meeting can have the attention it deserves. This is important, because each aspect is designed to benefit both members of the Accountability Pair in a unique and appropriate way.
A time of Greeting is at the top of the agenda, because we are social beings; moreover, the nature of UNIR is to care about each other's life, and spending a few minutes exchanging greetings can provide reassurance that this meeting is one of friendship and perhaps notice of something that needs to be addressed later in the meeting in more detail.
An Opening to the meeting reminds both participants that they must respect the structure of UNIR to get the most out of it. Depending on the common ground of the two members, this may include prayer, meditation, contemplation, song or a ritual invented by the team. In any case, an observable characteristic of this time should be encouragement. Perhaps each person could be held accountable to name one thing that was encouraging in the last week.
Accountability requires Reporting. This may be the most voluminous aspect of the meeting. Each person speaks (without much interruption, if any) about how goals from the previous meeting were addressed or accomplished. The listener should look at notes from the previous meeting to make sure that nothing was skipped, and he or she can take notes for later reference in recognition of hearing the report and for highlighting thoughts that can assist the other person in his or her growth.
Folks involved in such an effort are usually Seeking. Part of the meeting should be more relaxed and open to allow for natural conversation about what is on one's heart and mind. This is also a good time to follow-up on any notes taken during the Reporting time.
The flipside of Reporting is Committing. Time should be observed within the meeting to specify what goals are set for the upcoming week. This will make it clear what is to be included in one's personal schedule, and it provides a (short) list for the accountability partner to reference at the next time of Reporting.
The meeting ends with Closing. Similar to the Opening, this portion of the meeting may include prayer or another ritual that is appropriate to the UNIR experience. In any case, it should be one of affirmation. Each member should be reminded both of the value of the meeting and the importance of each person's life and growth.
Encouragement
Everyone that I have asked about their experience with an accountability pair recommends a similar experience for others. If you have found it difficult to ask someone to be your accountability partner, perhaps you will find it easier to present this article and ask for an opinion. That simple step may be the first on a rewarding journey of growth and friendship.
The following verse is found in the context of God encouraging us to be accountable to Him and seek His Spirit. For those who choose to base their meetings on a shared faith in Him, this verse may be one of encouragement:
"So I say to you: Ask and it will be given to you; seek and you will find; knock and the door will be opened to you." (Luke 11:9)
Conclusion
Considering UNIR, one may begin to envision an Unusually Noteworthy & Integral Relationship. UNIR Accountability Pairs are distinct from any other means of interaction due to the unique combination of excellence in various aspects. Certainly the members have a wonderful opportunity to observe marked improvement in their lives; family members and co-workers will probably wonder what changed. The "integral" component emphasizes the essential contribution that each member makes and the necessity of following through on the completion of each factor leading to the recognizable success. When two people commit to UNIR, they are opening up to the possibility of a very deep friendship that could last anywhere from a season to a lifetime.
Do you know people with similar life values? Is there one of them with whom you could consider UNIR? Creating an Accountability Pair as a life experience could be one of your most fruitful investments; dividends only come with investment.
---
---
Links referenced in the unabridged article
This page and its contents (accessible through http://mullaneyvision.net/unir/ ) are protected by Copyright (2003) for David Mullaney.
Especially (but not exclusively) the names "MullaneyVision" and "UNIR" (for the context described in these pages) were invented by David Mullaney.